International Management, Master
Welcome to this information page about the new Master's degree in International Management. It is a post-graduate, 18 to 24-month long programme of full-time study, entirely in English. The degree awarded is a Master of Arts. The programme is non-consecutive, and open to Bachelor's graduates in broad-based general business studies or in any standard engineering specialisation (civil, electrical, chemical, mechanical, commercial, or environmental). It is meant to prepare you for international work in the changing and networked markets of the future.
We are proud to say that we work in cooperation with all three Faculties in Wismar – Business, Design, and Engineering – to present you with a realistic and holistic picture of the main sources of ideas, innovations and methods driving economic growth. We are equally proud of our highly international student body and the opportunities you'll have to meet people from all continents.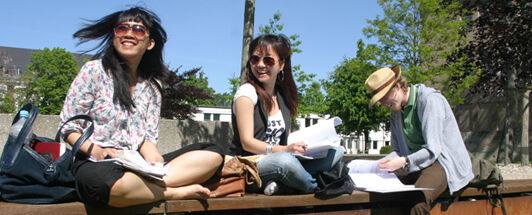 There are no fees for taking part but we have high entry standards. These have two parts; general personal qualities and academic achievements. For more details, please see the two drop-down menus called Are you ready? Skills check list and Application check list. Other details can be found in the other drop-down menus. If you have questions that cannot be answered here, please feel free to contact Prof. Bücker (German students only) orMrs. Stubbe (International students only). See the relevant boxes for contact details. If your query can be answered by reading these pages, it is unlikely that you will get a reply, because we have a lot of applications, so please check everything here before writing.

Contact for international students
Korinna Stubbe

Dipl.-Lehrer
Contact for German students
Academic Degree
Master of Arts (International Management)
Faculty
Wismar Business School
Campus / Distance learning
Studies on campus
Start of studies
to winter and summer semester
Classroom Languages
english
Conditions for admission
Voraussetzung für die Zulassung ist ein erster akademischer Abschluss in allgemeiner Betriebswirtschaftslehre, Ingenieurwissenschaft, insbesondere Bauingenieurwesen,
Maschinenbau und Elektrotechnik, oder artverwandten Berufsfeldern und der Nachweis
von 210 ECTS und einer Gesamtnote von mindestens 2,0
Kann die Anzahl von 210 Credits nicht nachgewiesen werden, müssen weitere 30 Credits
über das im Studiengang angebotene Wahlpflichtangebot oder vergleichbare Studien-
und Prüfungsleistungen erworben werden. Über die Auswahl der zu belegenden Wahlpflichtmodule beschließt der Prüfungsausschuss nach Vorschlag der Bewerber_innen
Bewerber_innen, einen ersten akademischen Abschluss einer anerkannten Hochschule eines Mitgliedsstaates der Europäischen Union mit einer Gesamtnote schlechter als 2,0, jedoch mindestens 2,5 und die geforderten englischen Sprachkenntnisse vorweisen, können an einem Auswahlverfahren teilnehmen. In diesen Fällen muss anhand folgender Auswahlkriterien eine Mindestpunktzahl von 5 Punkten erreicht werden:
1. die Gesamtnote des ersten akademischen Abschlusses und
2. besondere Eignung.
Werden keine Nachweise der Kriterien eingereicht, werden keine Punkte vergeben.
Bewerber_innen, welche einen ersten akademischen Abschluss einer anerkannten ausländischen Hochschule eines Landes, das nicht Mitglied der Europäischen Union ist, vorweisen, müssen die Eignung zum Masterstudium in der Europäischen Union nachweisen:
1. Der Test für ausländische Studierende (TestAS) für Wirtschaftswissenschaften ist in englischer Sprache abzulegen. Folgende Ergebnisse sind zu erreichen: Ein Standardwert von mindestens 111 im Kernmodul oder in einem der zwei fachrichtungsspezifischen Testmodule, sowie mindestens 101 in beiden anderen Testmodulen.
2. Die Bewerber_innen haben eine Mindestpunktzahl von 5 Punkten nach den Anlagen 1 und 2
zu erreichen.
3. Werden diese Kriterien nicht erreicht, ist die Zulassung zu versagen.
lautet die Gesamtnote schlechter als 2,5, erfolgt keine Zulassung
Besondere Zulassungsvoraussetzungen:
Kenntnisse der englischen Sprache sind nachzuweisen
Die Unterrichtssprache in Pflichtmodulen und in der Regel auch in den Wahlpflichtmodulen ist Englisch. Details zur Zulassung finden Sie in den entsprechenden Ordnungen.